Leading the Future of Hospitals
LEAD . TRANSFORM . EMPOWER
The forum delves into the future of hospitals, challenges and opportunities across the Arab Countries through various activities organized over two days from the scientific conference, Exhibition and AHF Executive Circle.
ANNUAL FORUMS
MEDHEALTH ABUDHABI 28 FEBRUARY - 1 MARCH 2023 MedHealth Abu Dhabi 2023 is the 24th edition of the Annual Forum of the Arab Hospitals
Federation that will be organized in Abu Dhabi this year under the patronage of His Excellency Mansour Ibrahim Al Mansouri – Chairman of the Department of Health Abu Dhabi
with the support of League of Arab States, Arab Health Ministers Council, WHO- EMRO,
Healthcare Associations & Syndicates.
The Edition will be dedicated to key decision makers, hospital owners, C-level executives,
Directors, Clinicians and Healthcare Leaders to get insights on worldwide trends affecting
hospitals and healthcare, sharing best practices and solutions while creating a real forum for
networking in the Arab countries.
Leading Health executives from around Hospitals of the region will meet to learn and
exchange ideas on new business models, innovative technologies and the future of Hospitals .
Click here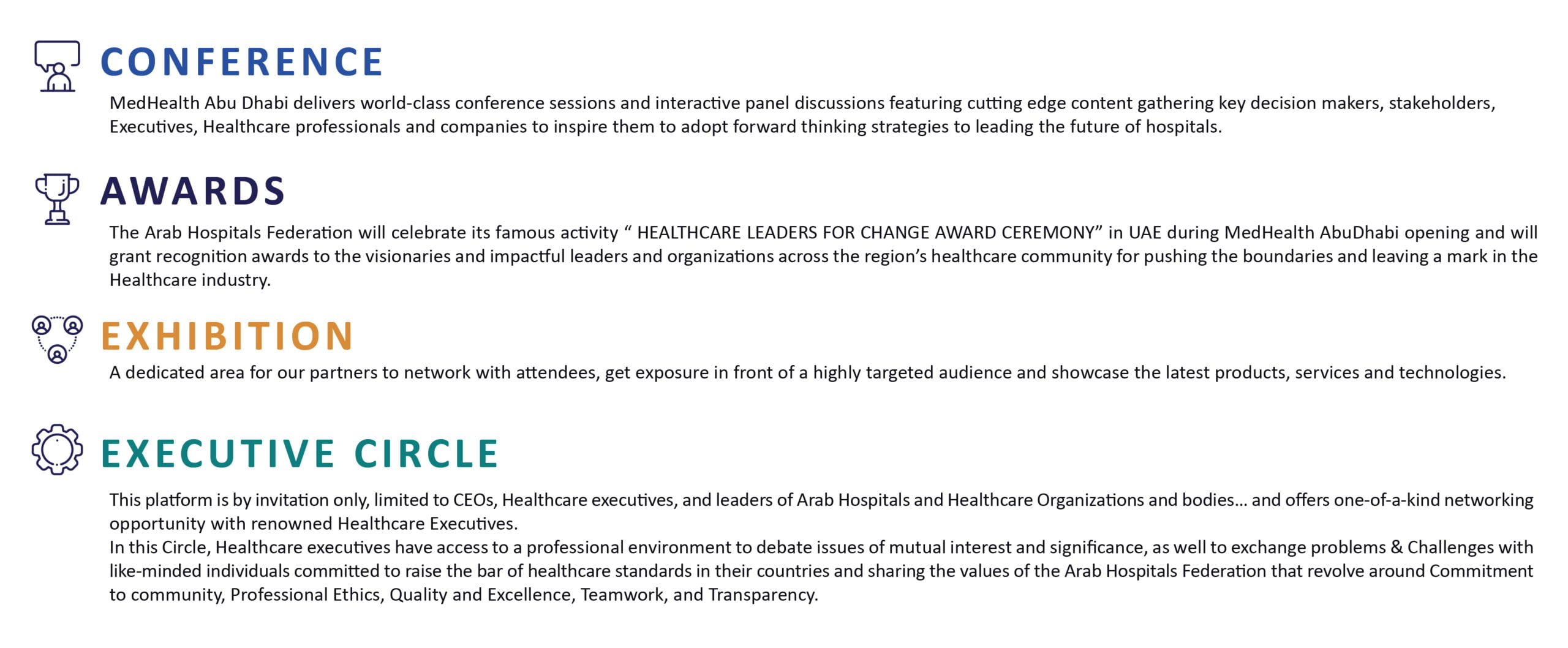 AHF EXECUTIVE CIRCLE MEETING
The AHF Executive Circle is a unique meeting that will be held on February 28 , 2023 at the Conrad Hotel - AbuDhabi - UAE and it will gather Top Healthcare executives from the Arab Healthcare Institutions that will share information and best practices discuss, network, learn, educate and address challenges .
Register now and participate in this unique CEOs platform.